IAT/IQ Awards Ceremony 2022
Annual IQ & IAT Student Awards recognise those studying higher education at the University of Derby Centre for Mineral Products
---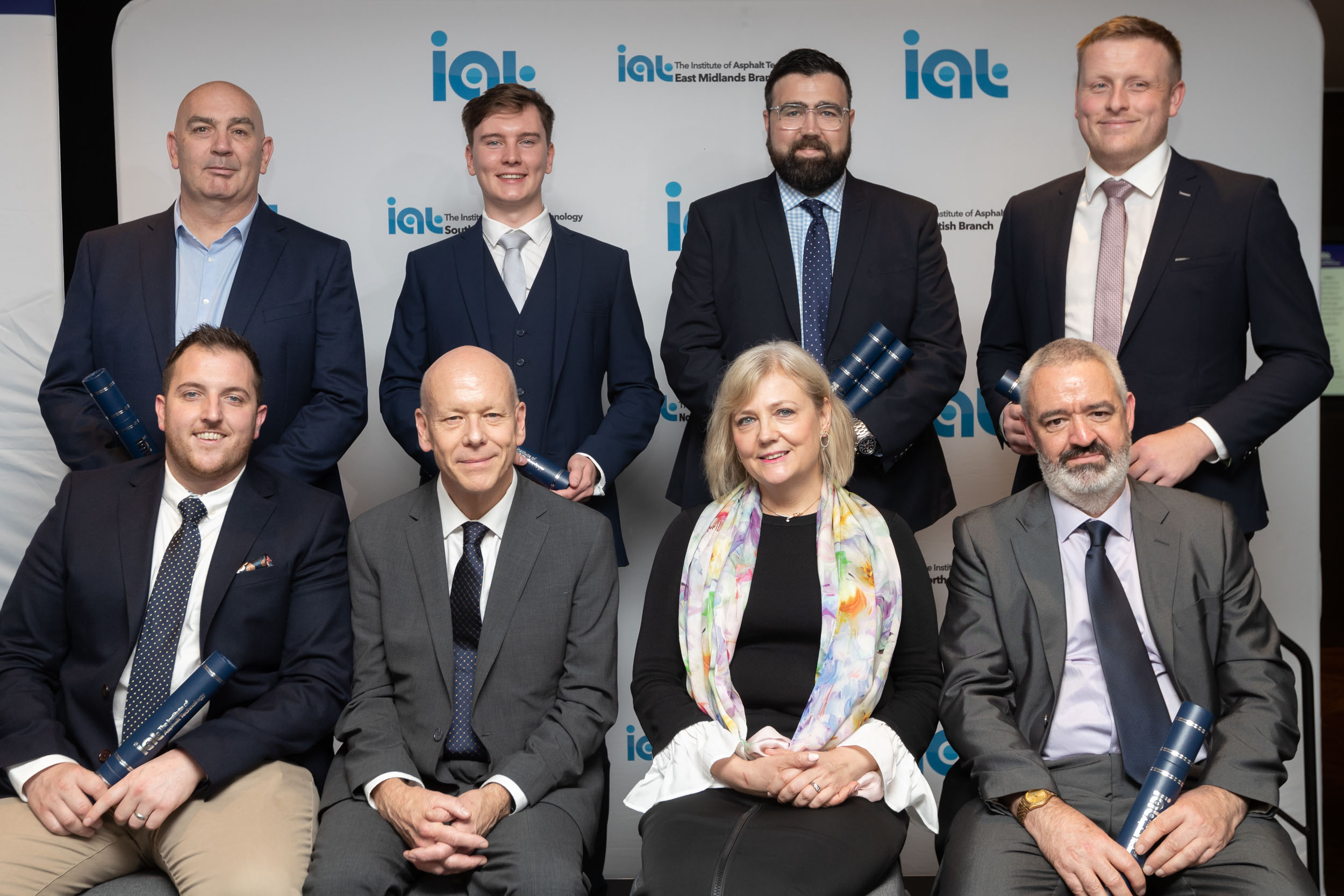 Set against the backdrop of the historic IET London: Savoy Place and in front of senior industry professionals, Institute of Asphalt Technology (IAT) and the Institute of Quarrying (IQ) and have praised the high-performing students from the University of Derby Centre for Mineral Products at a joint awards ceremony.
The annual IQ & IAT Student Awards recognise those studying higher education at the University of Derby Centre for Mineral Products. Each award is a celebration of an individual's outstanding achievement and continuous commitment to the minerals industry.

Winners of the 2022 Student Awards accepted their prizes at the annual IQ Fellows Lunch in front of Fellows of the IQ and special guests. Viv Russell, IQ President, presented the mineral products students with their prizes alongside James Thorne, CEO of IQ. The asphalt students received their awards from Brian Downes, IAT President, accompanied by Lyle Andrew, Executive Director of IAT.
Brian Downes, IAT President, says: "On behalf of everyone at the Institute of Asphalt Technology, I'd like to congratulate all of the winners. We're extremely proud of our partnership with the Institute of Quarrying and it was a pleasure to once again celebrate together the future leaders of our industries."

Viv Russell FIQ, IQ President, says: "It has been a great pleasure to once again jointly host the Student Awards with the Institute of Asphalt Technology, reinforcing our close, cross-sector relationship and supporting the development of talent in our industries. All of those that have received prizes have gone above and beyond to achieve exceptional results in their studies at the University of Derby Centre for Mineral Products."

Mark Osbaldeston is the Head of the Centre for Mineral Products at the University of Derby. He adds: "Congratulations to this year's cohort of IQ and IAT Student Award winners. You have all demonstrated a true passion towards your studies and the industry, excelling academically despite the challenges faced as a result of the global pandemic over the past few years."
2022 IAT winner profiles

A joint first prize was awarded to Marcus Jones and Nicholas Land (absent) for Shell Bitumen Best Overall Third Year Foundation Degree.
Marcus is Business Manager at Dragon Asphalt Ltd. Having started just over 4 years ago he had very little knowledge of the mineral products or Asphalt industry. Thanking his employer for providing an opportunity to study such a great course, he has been able to achieve more than he had dreamed in such a short period and can't wait for what the future holds.
Second place was presented to Colin Redmond.
Colin is a Freelance Contractor currently working in Birmingham for Kier Highways managing their Major Projects programme, he has 18 years industry experience working across Surfacing and Pavement Engineering. Colin found the course highly rewarding, especially as the content was developed by people that have first-hand industry knowledge, the UoDcourse now gives him the academic base to support his experience. Colin is also a Committee Member with the West Midlands Branch.
Third place went to Aaron Kemp of Hanson.

Dermot Leonard received the award for Best Overall Second Year in the Foundation Degree.
Dermot works for Pavement Management Services which is a civil engineering consultancy firm specialising in testing, evaluation and management of roads and airfields. His role there is manager of the Highway Testing Laboratory division of the company and has over 21 years experience in sampling, preparation, testing and reporting on pavement materials.
Dermot has found that studying the course at UoD has benefited him by giving him greater confidence and knowledge when dealing with technical matters.
Kieran Watson won the award for Best Overall First Year Foundation Degree.
Commercial Account Manager at Tarmac, Kieran feels that the University of Derby course has allowed him flexibility with the online learning to be able to fulfil current commitments to the business but also continue to learn in line with his vocational aspirations.
The course is extremely in depth and relevant with knowledgeable lecturers and he would highly recommend the course to others.
Nicholas Land (absent) won his second prize, the Worshipful Company of Paviors Award for Contracts & Business Management and Ops.

Colin Redmond also received a second prize, the Worshipful Company of Paviors Award for Pavement Technology.

The Best Asphalt Diploma Student Award was presented to Steven Horne.
Lead estimator at LA Kattenhorn Surfacing, Steven have been in the roll for 2.5 years having perviously been a contracts manager also at Kattenhorns. He decided to study at UoD to broaden his knowledge and provide a better understanding of the technical aspects so that he could better serve his clients and give technically correct feedback to their enquiries.
He is a great believer in lifelong learning and plans to enhance his knowledge further in the coming years with supplier specific asphalts with a particular interest in the implementation of carbon neutral solutions.

The Best Higher Apprentice Award, sponsored by FM Conway, was awarded to Joel O'Connor.
As Area Technical Manager at Hanson, Joel provides a wide range of technical support to the asphalt business which includes working closely with plant managers to maximise Reclaimed Asphalt addition while maintaining a high-quality material.
He also calculates the greenhouse gas emissions associated with their asphalt products and assist with carbon saving schemes.
The University of Derby has equipped Joel with a wide range of knowledge that he has been able to apply directly into the workplace. It has massively benefitted his understanding of the heavy building materials industry as a whole; all the while offering a great opportunity to socialise and enjoy the university experience.
2022 IQ winner profiles

Lewis Coxon, Quarry Manager at CEMEX, received the Reginald W Coles Prize, endowed in memory of past President of IQ, Mr R. W. Coles, for Best Overall Mineral Extractives Foundation Degree Student. He graduated from the University of Derby Centre for Mineral Products with a Distinction.

Sarah Howarth, Trainee Assistant Quarry Manager at Aggregate Industries UK, won The Ransomes Rapier Award.

Craig McCorquodale MIQ, Senior Technician at Tarmac, was presented with The Peter Preston Award, bestowed by the late Peter Preston, for Best UK Diploma Student.

Two Longcliffe Calcium Carbonates Awards of Excellence were presented to the Best Performing Mineral Extractives Foundation Degree Students in Years One and Two.
Ben Clayton MIQ, Engineering Workshop Supervisor at Tarmac, impressed tutors with his hard work throughout his first year of study. Second year student Peter Triccas TMIQ, Deputy Quarry Manager at Aggregates Industries UK, has continued to impress tutors and maintain his high achieving standards. It is now the second time he has received the award.
Daniel McCann TMIQ, Assistant Quarry Manager for Pattersons Quarries, was crowned the winner of The Scottish Springbank Quaich Award for Best Third Year Foundation Degree Student. It is awarded to the highest achieving student in Scotland, which is over the full three years of studying.

The higher education qualifications, through the partnership with the Mineral Products Centre, are delivered by the University of Derby in partnership with IQ and IAT and go hand in hand with everyday operations in the mineral products industry.